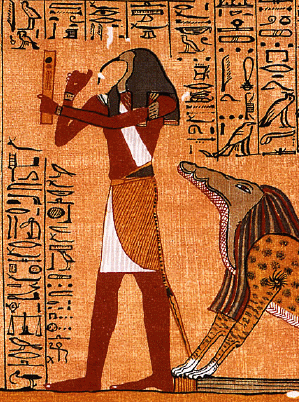 Today is the first day of
Thoth
, honoring the Egyptian God and the first day of the Egyptian calendar. As one of the most important dieties of Egyptian mythology his roles were maintaining the Universe and being the primary mediator between the forces of good and evil. Still think your job has a lot of responsibility?
By the way, he also authored the "Book of Thoth" in which he inscribed all of the secrets of the universe. Anyone who read it would become the most powerful sorcerer in the world, however, they would be horribly cursed by the knowledge. Luckily, the original text was never found.
_____________________________________________________________________
On this day in 1966, The Beatles would perform their last concert before paying fans at Candlestick Park in San Francisco. Formed in 1960, they would produce their first commercially successful single "Love Me Do" in 1962. Their debut album Please Please Me was released on March 22nd, 1963 containing the songs "I Saw Her Standing There", "Please Please Me", "Love Me Do" , "Do You Want to Know a Secret" and "Twist and Shout" which launched them to international success.
In December of 1963, they realeased the single "I Want to Hold Your Hand" which sold a million copies and was a number one hit in the US by mid-January. Their first ever live performance in the U.S., held on The Ed Sullivan Show on February 9th, 1964 was viewed by 73 million viewers. By August 1966 however, they would decide to leave touring and concentrate on creating some of the best music of their age at Abbey Road.
The Historical Inebriant: The Abbey Cocktail
Ingredients:
1 1/2 oz orange juice
2 oz gin
2 dashes orange bitters
maraschino cherry for garnish

Pour the ingredients into a cocktail shaker with ice cubes. Shake well. Strain into a chilled cocktail glass. Garnish with the cherry.