Note: This was yesterday's post but due to election coverage, I never published it.
Edwin Armstrong invented the regenerative circuit (used in radio receivers between 1920 and and 1945) while still an undergraduate at Columbia University and the superheterodyne receiver in 1918. Even though the technology he developed revolutionized radio transmissions, and is still in use today in most TV and radio receivers, you probably wouldn't recognize the name for that.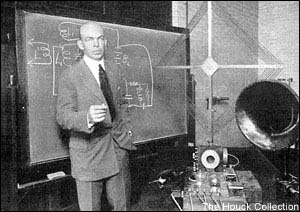 What you should know Armstrong for was that on this day in 1935, he presented his paper "A Method of Reducing Disturbances in Radio Signaling by a System of Frequency Modulation" to the New York section of the Institute of Radio Engineers and FM radio was born.
Progressive FM music stations would not come about for years to come, but when they did it provided a forum for new music in a static free clear signal. The music you wanted to hear, the way it was meant to be heard was at your fingertips. Rock n' Roll would never be the same. Now that deserves a stamp!
______________________________________________________________________

As we get ready to celebrate this holiday season, remember that on this day in 1893, Pyotr Ilyich Tchaikovsky passed away. My first experience with Tchaikovsky was hearing this composition...on the radio.
The Historical Inebriant: The Nutcracker Cocktail
http://www.absolutdrinks.com/en/drinks/nutcracker/
Ingredients:

5 Parts Cognac
1 Part Orange Flavored Brandy
4 Parts Pineapple Juice
4 Parts Coconut Liqueur
4 Parts Lemon Juice


Fill a shaker with ice cubes. Add all ingredients. Shake and strain into a chilled cocktail glass.

______________________________________________________________________
On this day in 2005, the Japanese singer and actress
Minako Honda
, would pass away at age 37 from Leukemia.