On this day in 1903, Ford Motor Company sells its first car. Started in a converted factory in Detroit, Michigan with only $28,000 from twelve investors, Ford would grow to be one of the largest companies in the world. To honor Ford and Detroit the featured drink is one that was invented there. You can read the story of the cocktail resurgence in the Motor City (and get a few more drink recipes) below.
Ingredients: Equal Parts
Gin
fresh lime juice
chartreuse
Luxardo maraschino liqueur
Combine ingredients in a shaker with ice and shake into a chilled cocktail glass.
If you have interest in watching Rachel Maddow mix The Last Word cocktail in honor of last year's rapture (that wasn't) you can view that here.
http://thelastword.msnbc.msn.com/_news/2011/05/20/6686824-the-last-word-rapture-cocktail?lite
As a side note, on this day in 1701, French officer Antoine de la Mothe Cadillac would reach the Detroit river and build a new settlement in what was then Indian territory. He would name it Fort Ponchartrain du Detroit.
________________________________________________________________________
On this day in 1973,
Eddie Rickenbacker
, would pass away. An American fighter ace in World War I with 26 victories to his credit, a race car driver, one time owner of the Indianapolis 500 speedway as well as founder of Rickenbacker Motors and later owner of Eastern Air Lines, Rickenbacker's story is a facinating one so if you have time please read the short wiki piece.
_________________________________________________________________________
On this day in 1989, Donald Barthelme, the American short fiction writer would pass from throat cancer. His postmodern works included the titles - "Unspeakable Practices, Unnatural Acts" and my favorite children's book "The Slightly Irregular Fire Engine, Or the Hithering Thitering Djinn." Barthelme would often describe himself as "a little drunk all the time."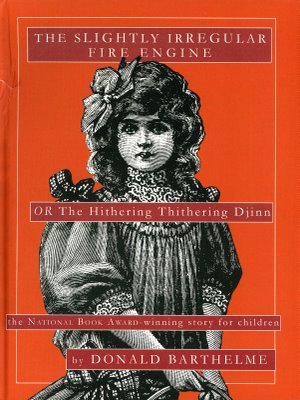 Read one of Barthelme's amusing stories about how children deal with death
http://www.npr.org/programs/death/readings/stories/bart.html
There is no moment that exceeds in beauty that moment when one looks at a woman and finds that she is looking at you in the same way that you are looking at her. The moment in which she bestows that look that says, "Proceed with your evil plan, sumbitch." The initial smash of glance on glance. Then, the drawing near. This takes a long time, it seems like months, although only minutes pass, in fact. Languor is the word that describes this part of the process. Your persona floats toward her persona, over the Sea of Hesitation. Many weeks pass before they meet, but the weeks are days, or seconds. Still, everything is decided. You have slept together in the glance.
"The Sea of Hesitation" Donald Barthelme
_______________________________________________________________________